New Lexus RX 350
For Sale in Fort Wayne, Indiana
2023 Lexus RX 350 For Sale in Fort Wayne, IN
At Lexus of Fort Wayne, the 2023 Lexus RX 350 comes in nine variations including hybrid options. And standard to many is all-wheel drive (AWD) for exceptional performance.
As a whole, the newly modernized 2023 Lexus RX 350 convenes expertise in the realm of luxury. This the primary reason that brings droves of Fort Wayne shoppers into our Lexus dealership.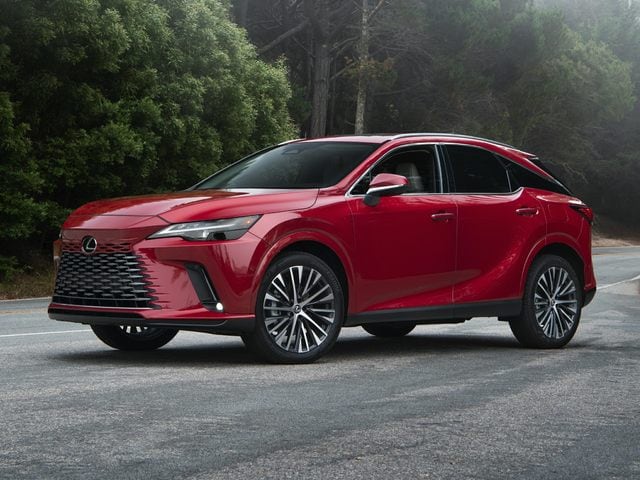 Performance
Set as the standard engine, the turbocharged four-cylinder layout delivers up to 275 hp. Generated torque reaches a maximum of 317 lb.-ft. And when this powertrain is mated to the Hybrid Electric Drive, horsepower and torque are slightly reduced - 246 hp, 233 lb.-ft.
Top-track speed sees 124 mph easily meted out across the RX 350 variations. Acceleration from zero to 60 mph is accomplished in 7.2-seconds with the 2023 Lexus RX 350 AWD. While front-wheel drive versions dial-in at 7.6-seconds -- from zero to 60 mph.
To the 2023 Lexus RX 350h AWD is a combined 36 mpg.
The lowest combined fuel-efficiency rating is 24 mpg to the Lexus RX 350 AWD.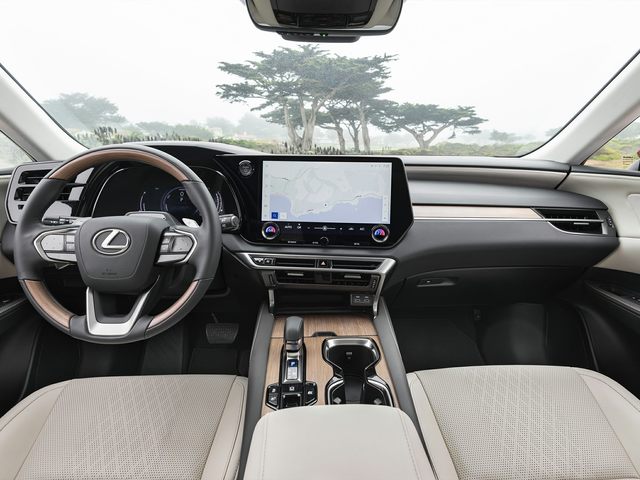 Interior Amenities
There are certain interior accoutrements shared across the entire lineup of Lexus RX 350 models. This alone makes this Lexus luxury offering even more enticing. Not much effort on the part of the Fort Wayne shopper is required in securing what's convenient and comfortable.
So, summarized below are key details to the 2023 Lexus RX 350 interior:
SmartAccess with push-button start and stop allows for convenience enjoyed.
Ambient illumination sets the proper mood for evenings out and savored.
Power-adjustable driver and front passengers seats offer eight settings.
Steering wheel and shift knob are leather-trimmed.
Door courtesy lamps help with entry and exiting.
Reclining rear seats may be folded in a split configuration for added cargo spacing.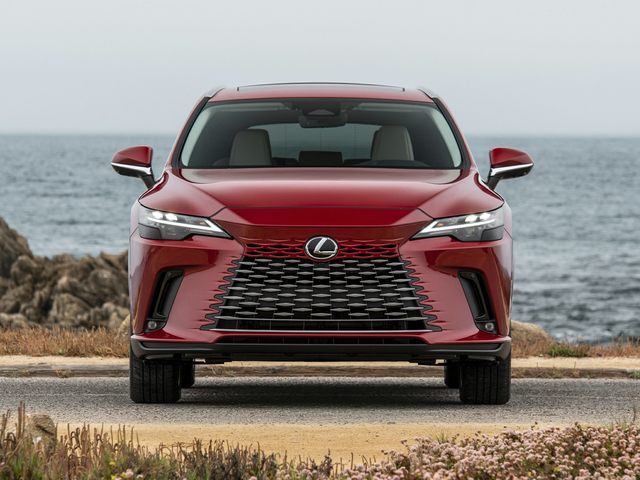 Technology
This latest iteration of the Lexus RX 350 offers every detail in connectivity. Many technological features span the RX 350 lineup, delivering complete an experience that's immersed in advancement and innovation.
Referenced below are the technology essentials found spanning the 2023 Lexus RX 350 inventory:
Bluetooth and USB smartphone capacities extend convenience in connectivity.
Lexus Interface with the 9.8-inch touchscreen display provides a full menu of connected services, voice-control features and cloud-based navigation.
Wi-Fi Connect lends AT&T hotspot capability as with streaming Apple Music and Amazon Music.
Lexus smartphone application with Remote Connect features remote-vehicle access.
Wireless is Apple CarPlay® and Android Auto™ application integration.
Lexus 12-speaker Premium Sound System surrounds passengers with quality in audio conveyed.
Safety
To the 2023 Lexus RX 350, safety is an inherent value. In this, many prized and essential driver-assistance solutions help to ensure a safer commute for the Fort Wayne driver. This also true of families being shuffled to and from local activities after school.
In fact, each RX 350 variation comes wholly equipped with every conceivable tool in fashioning an all-encompassing umbrella of wellbeing. This then provides ample coverage in protection and mitigation of danger, should the unfortunate be near or present.
From an array of ten airbags and the LATCH system for children to traction control and tire-pressure monitoring, confidence lies in the 2023 Lexus RX 350 offering safe haven.
Contact Lexus of Fort Wayne to Learn More
Are you interested in learning more about everything the new Lexus RX 350 brings to the table? Contact the sales team at Lexus of Fort Wayne today. Our friendly Lexus experts would be delighted to tell you more about everything this new SUV brings to the table.
Our dealership has a new Lexus inventory complete with options like the new RX 350. We'd love to provide a rundown of our current specials, offers, and more. Don't hesitate to give us a call at any time.